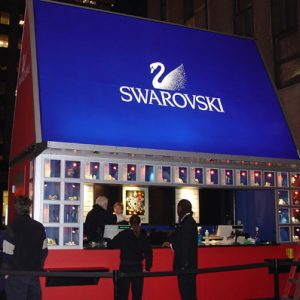 The ancient art of Feng Shui, a Chinese system of improving "energy" flow, states that the entrance to a home or business is the "mouth", and it governs the quality and amount of energy flowing into the building. Whether or not this is true, it can't be argued that the entrance of a building needs to make a good first impression. It should be clean, nothing should be broken, and the name of the company should be easy to read and clearly visible. If there are any potted plants by the entrance, they should be healthy and attractive as few things spoil an entrance more than dead plants. Symmetry is also useful in creating a neat and professional image.
Awnings are a timeless classic and can make any entrance look smart. For a restaurant, a black awning with gold or white writing makes a real statement. Black awnings are perfect for a cosmopolitan bar or a trendy nightclub.
Forest green is another popular choice, great for a little Italian restaurant hidden among some ivy. Lime green is excellent for a health store as it brings to mind new growth and freshness. For vitality and energy, red won't disappoint and this would look great at an office entrance, especially when paired with grey walls. Turquoise or bright blue is a great choice for a store selling purified water and the logo can be printed on the awning in white, a great color combination. This works best if the company logo is a very simple one, as too much detail will get lost. Whatever color you choose, choose wisely because the awning will be around for a long time!
Awnings don't just belong at entrances; they can be used all over. Restaurants in particular use awnings a lot to shade the outdoor seating area, either to extend the size of the available space or to provide a comfortable smoking area. Many awning companies also extend their range with car ports, window blinds for the interior, outdoor umbrellas, etc.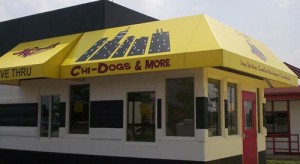 There are a variety of different awning styles to choose from too. There are box shaped awnings, semi-circle or dome shaped awnings, and the awning can have a valance added too. A valance is the "frilly" part at the end of the awning. Valances are best suited for an old fashioned or historical building though. If the awning is not a fixed feature at the entrance then a retractable awning can be installed to extend the life of the awning and protect it during extreme weather. Retractable awnings are great for balconies to provide protection during Friday afternoon drinks at the office for example.
based in Dubai has been providing top quality awnings and related products and services since 1990. With so many years of experience they are well positioned to provide excellent service, affordable prices and sound advice.