Awning Type (Propulsion)
Today's awnings come in two basic types: manually operated models which are opened by hand and motorized models which operate by electricity. Each offers its own advantages. Benefits include low-cost affordability, easy adaptability to almost any deck or patio, and support arms that can be angled back against the house or set vertically on the deck or patio floor. These arms provide extra support and stability which some owners prefer in windy areas, and increase the awning's versatility by making the attachment of certain accessories available.
Motorized awnings have no vertical supports. Instead, they have retracting lateral arms, creating an unobstructed shaded area. These awnings are operated by an electric motor, generally hidden inside the roller bar of the awning. The arms open and close the awning at the touch of a wireless remote control or a wall-mounted switch.
Modern awnings may be constructed with covers of various types of fabrics, aluminium, corrugated fiberglass, corrugated poly-carbonate or other materials. High winds can cause damage to an extended awning, and newer designs incorporate a wind sensor for automatic retraction in certain conditions.
Wind tolerance and construction
Design schematics for awning type used at the White House
Modern awnings are rated for wind tolerance based on width, length, number of supporting arms, and material. Modern awning design incorporates urethane compression joints, steel support structures, and wind sensors. Such designs are currently in use at the White House, Grand Central Station, and The Kremlin.
Aluminium awnings
Aluminium awnings have long been popular in residential applications throughout the world. They are available in many colors and are usually painted with a baked-on enamel paint. Among the many benefits of these awnings are cooler temperatures inside the home, shade for your patio, extending the life of furniture and window treatments. Possibly the most beneficial feature of the awnings are the fact that they have a usable life of well over 40 years.
Some aluminum awnings are designed to be folded down and fastened to protect windows in case of storms such as hurricanes.
Retractable awnings
Retractable awnings are now becoming very popular with homeowners in the United States. They have been popular in Europe for many years, due to higher energy costs and lack of air conditioning. Retractable awnings can
include the following types:
Retractable patio cover systems
Retractable patio cover systems are the latest "entry" in to the retractable market. Most of these systems are water-proof as compared to water-resistant (lateral arm awnings) and therefore allow no water penetration through the fabric "roof" section. These systems meet Beaufort scale wind loads up to Beaufort 10 (55-63 mph) depending on model and size. Another advantage of retractable patio cover systems is that they can be enclosed on the front and sides using solar shade screens (see below). This allows for an "outdoor room" that can be heated in the winter and air conditioned in the summer.
Retractable lateral arm awnings
These are a modern version of the old storefront crank-up awnings of the last century. Tension arms and a roller bar are supported by a torsion bar. The torsion bar fits into wall or soffit brackets that spread the load to the width of the wall. Hand-cranked awnings are still available, but motorized awnings are now most common. The motor is inside the roller tube. Many motors now have a built-in receiver and are operated by remote control or home automation.Lateral arm awnings are also known as deck or patio awnings, as they can extend as far as 18 feet (5.49 m) and be as long as 30 feet (9.14 m) or more – thus covering a large outdoor space.
Retractable side or drop arm awnings
Commonly used to shade a window, with a roller tube at the top, spring-loaded side arms, and a motor, crank or tape-pull operator. Awnings with sides are commonly known as traditional style awnings as they have been used for many years dating back to the early 19th century using cotton canvas fabric. Traditional style awnings are appropriate for historical buildings and are still popular today using a more weather resistant fabric such as a solution dyed acrylic fabric such as Sunbrella Fabric and a rope and pulley system for retracting the awnings. Awnings without sides do not provide as much sun protection as those with sides. Awnings without sides come in many different styles. Drop Arm Awnings without sides come with roller tubes at the top and are available with motors and wind sensors for automatic retraction. Spear Awnings are made without sides and are made with Wrought Iron Frames and they can be retracted with a rope and pulley system but are not available with motors.
Rigid shop awnings
Awnings with sides provide the best sun protection for east and west facing windows. North and South facing windows can be protected from the sun with awnings without sides. Awnings provide shade keeping your house cooler, awnings are also great shade creators around porches, decks and patios.
Portable, pop-up canopies
A portable pop-up canopy or tent provides a cost effective temporary solution to people who want to enjoy shade. The portable designs offer versatility to take the unit to social events. The frame usually incorporates an accordion style truss which folds up compactly.
Retractable solar shade screens
Shade screens utilize acrylic canvas or a mesh fabric, which allows some view-through while blocking the sun's rays. The roller at the top may be hand-cranked or motorized. The fabric is gravity-fed, with a weighted bottom rail pulling the fabric down between guide rails or guy wires. Exterior shades are much more effective at blocking heat than interior shades, since they block the heat before it enters the glass. This style of framed screens is typically done by professional installers, because of the specialized frames and tools required. A recent advancement is frame-less shade screens, which allows a "DIY-er" to install their own exterior shades.
Shade sails
Shade sails provide semi-horizontal shading. They can be demounted with some difficulty and are usually left in place year round. Retractable versions also exist, with greater cost but also greater utility, as they can be retracted to admit winter sun if required.
TYPES OF AWNINGS
Choose a fabric awning style that fits your business decor – contemporary or classic.
There are many designs, styles, fabrics, colors, features and options available in awnings today. Your professional awning supplier can provide you ideas and budgets for the awning that fits your needs.
Canopy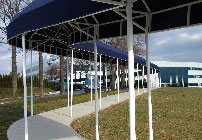 A canopy, unlike an awning, is supported by not less than one stanchion at the outer end, as well as the building to which it is attached. Like an awning, it is made of fabric and can provide the same benefits and aesthetics of an awning.
Free-Standing Canopy

This canopy, is supported by stanchions at the outer end and not attached to a building. Like an awning, it is made of fabric and can provide the same benefits and aesthetics of an awning.
Traditional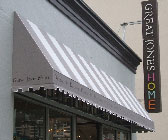 The traditional frame is comprised of a down-slanting front panel with or without two side panels or ends. It can be used over smaller areas like windows and entryways, but can also provide protection over large areas like porches, patios and decks.
Dome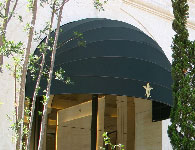 A dome-shaped awning is typically found over small entryways and windows and can be used in archways. The quarter-sphere shape provides similar protection from the sun and rain from all angles.
Elongated Dome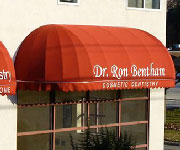 Similar to the dome-shaped frame, this style works best for long windows or entryways that require a dome awning. The elongated dome can be used on a flat surface or can curve to cover a corner entry or windows.
Quarter Round / Convex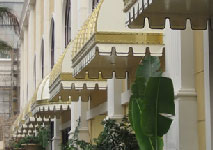 The quarter round frame is similar to the traditional awning with flat side panels, but is characterized by a curved front panel, constructed from a series of parallel bows in the shape of a convex curve. It produces a radius shape with flat ends. It is best used over a small entryway or window.
Lateral Arm / Retractable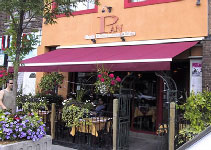 Most typically used over patios and decks, the retractable awning can be extended and retracted to provide shelter when necessary and allow sunlight when desired. It includes a manual cranking system or two variations of electric control systems; one functions at the push of a switch or button and the other can be controlled by sun, wind and rain sensors.
Concave

Most typically used over a window or door, the concave design is characterized by the inward curvature of the front panel. The side panels can be covered with fabric for a completely shaded enclosure, or left open, leaving the front panel supported by decorative poles.